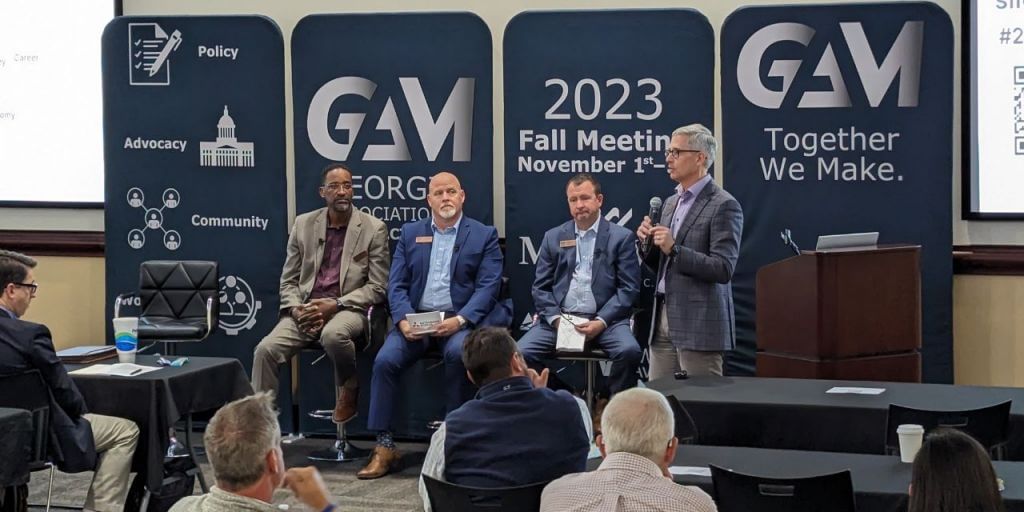 GAM Fall Meeting Engages and Informs
GAM held its Fall Meeting November 1-3, in Savannah.  We are especially grateful to the team at Mitsubishi Power Americas for hosting the business portions of the meeting in their outstanding conference facility in Pooler.  We also want to express our thanks to the meeting sponsors – Mohawk Industries, Georgia Power Company, Warren Averett, Duane Morris and Veryable – for their critical support that enabled GAM to host a highly successful meeting.
On Wednesday evening, November 1, in conjunction with the Fall Meeting, GAM hosted its annual Legislative Dinner in Savannah, an outstanding opportunity for members to engage and enjoy fellowship with many of our state's legislative and business leaders.  On Thursday, November 2, GAM members were engaged for a full day, beginning with a presentation on workforce development challenges by GAM Director of Workforce Development Stephanie Scearce, followed by powerful and inspiring remarks from Georgia Department of Labor Commissioner Bruce Thompson, who shared his perspective on the transformation within the Department and the future of Georgia's workforce.  In the afternoon, attendees participated in two tours – first at Savannah Technical College, where they gained insight on the mission and activities of Georgia's technical college system.  This was followed by an illuminating tour of the advanced manufacturing operations of GAM member Gulfstream Aerospace.  Thursday evening, GAM members gathered for dinner to enjoy delicious food, conversation and a presentation by renowned political consultant Brian Robinson, who entertained the crowd and answered numerous questions about the current state of Georgia and national politics.
The second business session on Friday included numerous timely and informative topics and speakers, beginning with a legislative issues update featuring GAM Vice President of Government Affairs Brittney Hull, State Representative Ron Stephens, and State Senator Steve Gooch.  Brian Sage of Sage Manufacturing Solutions led an expert panel on supply chain and logistics issues with Jaymie Forrest, the President and CEO of Activ Technologies, and Adrian Purtill of Vector Global Logistics.  Attendees also heard from Chad Moutray, the Chief Economist for the National Association of Manufacturers, who adeptly shared his perspective on the Georgia, national and international economic trends that are and will be affecting manufacturers.  Our second business session concluded with an interactive panel of GAM member executives moderated by GAM President and CEO Lloyd Avram, including GAM Chair Greg King of Avis Industrial, GAM Treasurer John Fluker of Grenzebach Corporation and GAM Board member Jim Kelleher of Mitsubishi Power Americas.  These leaders engaged with each other and with the audience to delve deeply into the many issues and challenges facing manufacturing leaders in the modern economy.
At lunch, GAM members heard from First District Congressman Buddy Carter via a recorded message prepared specifically for the Association's Fall Meeting.  Congressman Carter shared an update on matters in Congress and praised Georgia manufacturers for all they do for our state.
The Fall Meeting concluded with an outstanding tour of our host's facility, as members got to witness the complex manufacturing processes at Mitsubishi Power Americas and engage with several of the company's associates.
Thank you to our members and friends who attended this highly successful and engaging GAM meeting.  We at GAM are very grateful to all of our members as we continue to enhance our events to meet your needs and deliver greater value to you.
2024 is going to be another year of continued transformation within GAM as our signature Annual Meeting will be moving to the Fall timeframe in alignment with our new calendar fiscal year.  For those of you who enjoy seeing your GAM friends in the Spring, never fear – we also will be hosting a full meeting of the membership in that timeframe, giving our members at least two major full member events in 2024 and in the years to come.  Stay tuned for more details and dates on both of these events, which you will be hearing about in the very near future!