GAM Receives DECAL EXPAND Grant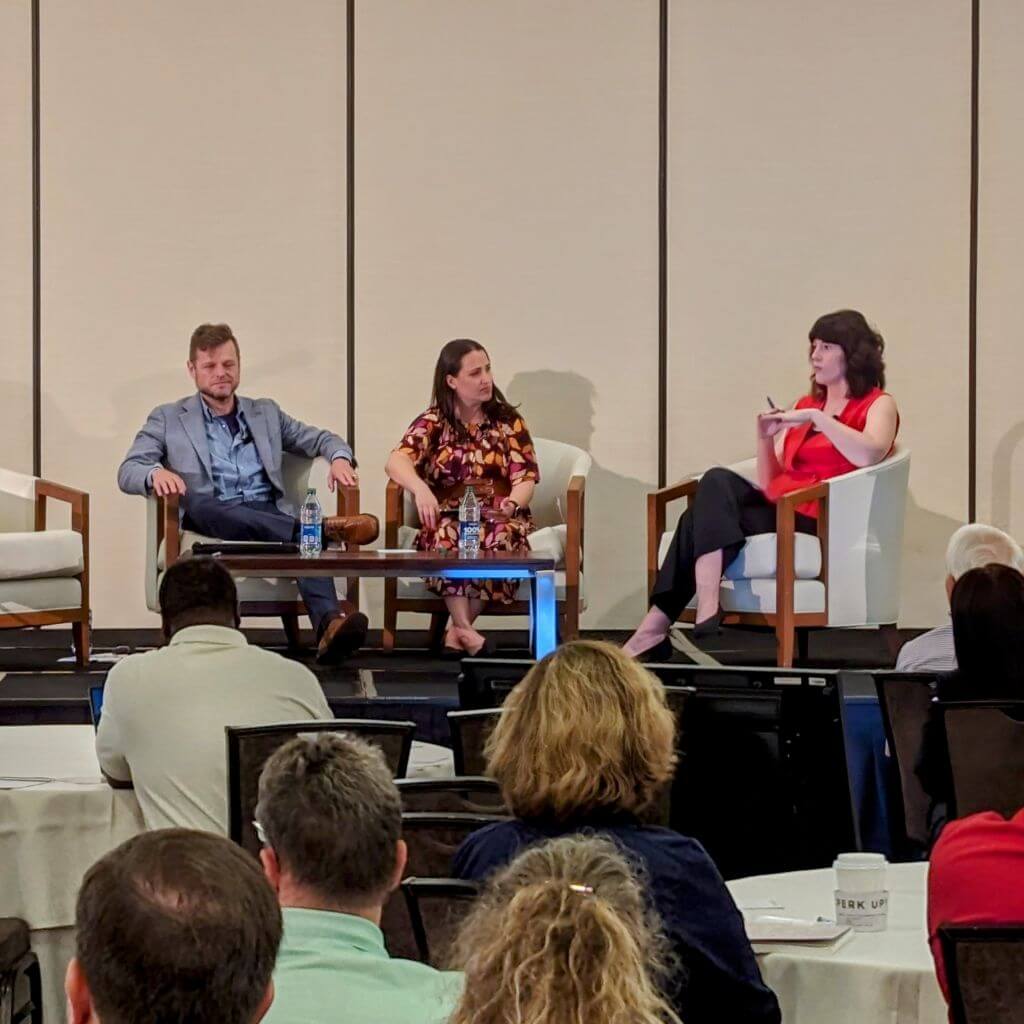 GAM Director of Workforce Development, Stephanie Scearce (right), discusses childcare's impact on workforce needs with Katie Kirkland (center), of Southern Company, and Dr. Bentley Ponder (left), from the Georgia Department of Early Care & Learning, at GAM's 2023 Workforce/Plant Management Seminar.
The grant will establish a pilot program to assist 14 manufacturing members in finding childcare solutions for their employees.
GAM is proud to announce its partnership with the Georgia Department of Early Care and Learning (DECAL) to develop pilot solutions addressing the impact childcare has on manufacturing workers. 
On June 20, DECAL debuted its Expanding Parents' Access to Nontraditional Delivery (EXPAND) grant program to support families with childcare needs during non-traditional work hours (evenings, early mornings, weekends, and variable shift schedules). With an understanding of how childcare impacts manufacturers and working parents, GAM seized the opportunity to apply for EXPAND funding. 
"In GAM's recent statewide workforce needs assessment survey of manufacturers, 61 percent of 90 respondents ranked childcare as an impediment to workforce participation. Of that 61 percent, 29 percent ranked it as the number one impediment," said Stephanie Scearce, GAM's Director of Workforce Development. "The EXPAND grant is timely and necessary for our manufacturing members, and I'm grateful DECAL made this opportunity available." 
On August 25, GAM was notified that its application request of $750,000 was approved. 
With EXPAND funding, GAM plans to allocate roughly $50,000 to each of its participating manufacturers to assist with implementing pilot solutions addressing their workers' specific childcare needs. "These solutions could involve helping our manufacturers' workers afford daycare or GAM partnering with daycares to provide the hours employees need," said Scearce. 
The number of manufacturing partners that committed to supporting the initiative is what made GAM's application so compelling. To benefit, manufacturers had to provide a commitment verifying their support to informing and encouraging associates to utilize childcare offered through the initiative.  A total of 14 manufacturers provided their commitment. 
In addition to the DECAL grant funding, GAM will donate $22,000 from its Manufacturers Education Foundation to further expand the initiative's impact. "I believe GAM's approach will offer a sustainable template to inform state and local stakeholders of the support needed to offer working parents affordable and accessible childcare," said Lloyd Avram, GAM's President, and CEO. "At GAM, our mission is to be visible, vocal, and vital for our members, and this initiative shows us living our mission." 
This fall, GAM will begin coordinating meetings with manufacturing partners for project development and implementation. The Association anticipates that the workers of the participating manufacturers will benefit from improved childcare access by mid-year, if not sooner.