2023 GAM Workforce Needs Assessment Statewide Report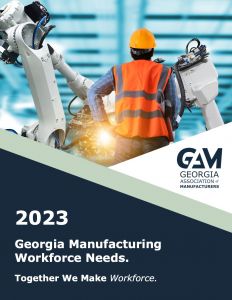 A Message from the Director:
I'm happy to share the Association's inaugural workforce needs report for manufacturers. For the first time, our state has an analytic report solely dedicated to manufacturing in Georgia, specifically regarding workforce development. This is critical, and here's why.
It's no secret that our state has experienced unprecedented growth and success. In August 2023, Governor Kemp and the Georgia Department of Economic Development announced another record-breaking fiscal year, in which 38,400 new jobs were created and $24 billion in capital was invested1. We are fortunate to live and work in such a prosperous state, and the Association applauds our leaders for ensuring Georgia remains the number one state in which to do business.
However, indicators point to a growing problem that requires immediate attention: a chronic lack of workforce.
With the steady decline of available workers, our state is struggling to meet the current employment demands of the manufacturing industry. Couple that with stagnant growth in labor force participation and declining birth rates2, and Georgia could become a victim of its success in economic development. This is why GAM is rolling up its sleeves and getting involved.
GAM has developed a workforce strategy encompassing a two-level approach. One approach focuses on developing fast-track solutions to address immediate workforce needs, while the other focuses on long-term initiatives to improve the perception of manufacturing and its careers. Ultimately, the goal is to foster a net increase in the availability of workers with manufacturing skills, both immediate and long-term.
GAM's workforce needs assessment and report are the first milestones in developing fast-track solutions addressing manufacturers' immediate and collective needs. The purpose is to thoroughly assess, inventory, and document the industry's occupational needs across the state, the skills and credentials required, the timeframe in which these needs must be met, and the untapped populations they're willing to consider for hire. The following pages offer direct responses from manufacturers who participated in our workforce needs assessment, telling us what they need to sustain and grow operations in Georgia.
Workforce, and the development thereof, is no small feat. It is a complex endeavor requiring a unified team. That's what we intend to accomplish at GAM: establish a unified approach to alleviating our members' workforce needs now and well into the future. I invite you to join us on this journey. As we say at GAM, "Together We Make," and together we'll make workforce.