2023 Fall Meeting | Brian Robinson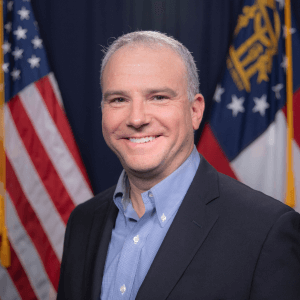 Brian Robinson, Political Analyst
Brian Robinson owns Robinson Republic, a communications consulting firm that specializes in public affairs messaging throughout the state of Georgia. His clients include corporations, issue advocacy groups, chambers of commerce, public officials and political campaigns. Robinson Republic assists clients with message development, issue advocacy, media training, media relations and crisis management. He is a weekly political commentator in metro Atlanta media's leading outlets and national cable news channels. He's cohost of WABE's Political Breakfast and a regular on Fox 5's Georgia Gang and Road to November, and he's the go-to for insight on Georgia politics for The New York Times, The Wall Street Journal, The Washington Post, Politico and others. He writes a column on politics in each edition of Georgia Trend magazine. 
Prior to opening his own business, Robinson worked as deputy chief of staff for communications for Gov. Nathan Deal. In this capacity, he managed the governor's communications staff and served as a senior adviser to the governor. Robinson also ran the communications efforts for the Deal for Governor campaigns in 2010 and 2014.  
Robinson came to the 2010 campaign via Capitol Hill, where he served seven years as a communications director in the Georgia delegation for Rep. Phil Gingrey and Rep. Lynn Westmoreland. He began his career as a journalist at The Atlanta Journal-Constitution after graduating magna cum laude from the University of Georgia's Grady College of Journalism and Mass Communication, where in the fall semester of 2016 he was an adjunct professor teaching public affairs communications. He is also a member of the Grady College Board of Trust and a former member of the Georgia World Congress Center Authority Board of Governors. 
Robinson has suffered a lifetime as a Georgia Bulldogs fan but is currently experiencing ongoing euphoria from the Dawgs' back-to-back National Championships. He was named to the University of Georgia's 2012 40 Under 40 class and is an alumnus of the 2015 Leadership Georgia class. He and his wife, Corinna, live in Brookhaven with their daughter, Quinn Paces, and their son, Asher, an English cream retriever. They are members of Peachtree Presbyterian Church in Atlanta.