2023 Fall Meeting | Commissioner Bruce Thompson
On January 14, 2023, Bruce Thompson became Georgia's tenth Commissioner of Labor. Since then, Commissioner Thompson has worked to reshape the Georgia Department of Labor to make it one of the state's most transparent, responsive, and technologically advanced agencies. Commissioner Thompson will provide an update regarding the transformation he is facilitating to serve Georgians better.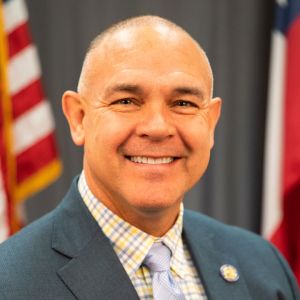 Commissioner Bruce Thompson, Georgia Department of Labor
Bruce Thompson was born and raised on a farm in rugged Montana, where he learned the value of hard work and perseverance. After attending college on a wrestling scholarship, Bruce felt called to serve his country, spending six years within the Tank/Armored Division of the U.S. Army National Guard. 
Before long, Bruce became a serial entrepreneur, building several businesses from scratch, including two automatic pool cover businesses, six insurance agencies, two funeral homes, and several software companies. Although his passion has always been to start companies, he has become very proficient as a "turnaround" specialist. Since moving to Georgia in 1990, Bruce has dedicated himself to helping others and his church community. He has served as Personnel Chairman and member of the Vision team for his church, as well as volunteered on several boards, including the SBA Advisory Board, Insurance Commission Advisory Board, Truett McConnell University, Reinhardt University, First National Community Bank, and Etowah Scholarship Foundation. 
In 2013, Bruce began serving his community as a state senator and was soon asked to chair the Science & Technology Committee, followed by the Veterans and Homeland Security Committee and the Economic Development and Tourism Committee. He has been recognized many times as "Legislator of the Year" for various bills he authored into law. In the Senate, Bruce authored the Heartbeat, rape termination, and Dexter Mosley (Tebow) bills, along with the Carnival Safety and Deep Fake Prohibition Acts. 
Combined with his small business work ethic and integrity, Bruce seeks to use his extensive legislative experience to serve Georgia's workers and employers in his role as Commissioner for the Georgia Department of Labor. He is humbled to be elected and is dedicated to creating an agency focused on transparency, responsiveness, and fiscal responsibility. 
 A family man and Christian, Bruce lives in the Cartersville area with his wife, Becky, of 26 years. Their son, Max, is a Riverside Military Academy graduate attending the University of North Georgia in fall 2023. Their daughter, Faith, a Samford University graduate, resides in Alabama.