Scearce Presents to Senate Study Committee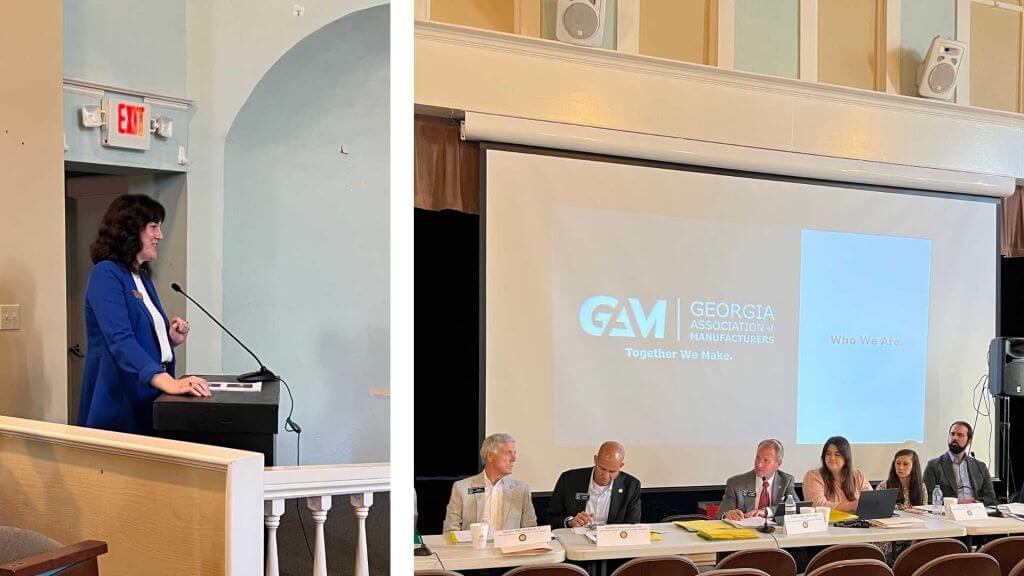 GAM's Workforce Development Director presented to the Senate Study Committee on "Expanding Georgia's Workforce"
On Tuesday, September 19, I was privileged to present to the Senate Study Committee on "Expanding Georgia's Workforce". The Committee was established to review best practices and programs to expand the workforce across all industries, and identify barriers that prevent Georgians from gaining employment. The Committee is Chaired by Senator John Albers and is comprised of 12 senators and business members appointed by Lieutenant Governor Burt Jones. More information about the Committee and its members can be found HERE. 
Representatives from different companies and industries presented to the Committee, including: Jackson Healthcare; agriculture machinery maker, Kubota; energy and chemical company, SK Innovations; and the Georgia Chamber of Commerce. Unsurprisingly, a common theme was shared by each speaker: the lack of a skilled and available workforce. 
I, too, spoke about current workforce shortages and their impediments to manufacturers' ability to recruit and retain workers. I shared statistics for the projected growth of manufacturing in Georgia and how it's juxtaposed with the declining rate of available manufacturing workers, represented by a 61 percent turnover rate in 2022. GAM's presentation aimed to demonstrate the need for our state to focus on "people recruitment" instead of just "business recruitment." To offer a template for doing so, I presented the Association's workforce strategy aimed at doing just that: facilitating a net increase in available workers with manufacturing skills, both immediate and long-term.  
I also shared high-level results from our recently completed workforce needs assessment and how its findings are informing the development of meaningful solutions to increasing labor participation. I concluded by offering GAM's workforce strategy as an avenue to educate legislatures and stakeholders on the best practices and policies needed to better support existing manufacturers in their efforts to sustain and grow operations in Georgia.  
The presentation was received positively by the Committee. Regarding next steps, Senator Albers shared that the collective presentations would inform Governor Kemp's workforce initiatives. GAM is committed to serving as the voice of Georgia's manufacturing industry and will continue providing information to the Committee and Governor on ways to combat workforce challenges. 
If you would like to learn more about the Senate presentation, please contact me at SScearce@gamfg.org.